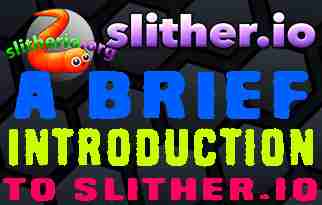 A Brief Introduction to slither.io
Slither.io is developed by the owners of Agar.io and it can be considered as the multiplayer version of the old snake game which we used to play on our old model phones. Moreover you will be able to play the game online!
You will find information about what is slither.io and how you can play the game in our article. You can also check our other articles related with the slither.io hacks and slither.io skins which are for advanced players. For now let's keep it simple and begin with a brief introduction.
As you can download the game to your smart devices, you can also play the game through our website by simply clicking the link on the top of the game. You can also download our slither.io mod in order to double the fun!
What is slither.io?
As we mentioned above slither.io is the brand new version of the old snake game. You will play against other individuals over an internet connection on a map where you will have to eat the orbs you find.
It is possible to play the game on smart devices without paying any fee however you will see some ads as you begin a new game. But you will not see any ads on the game when you play it through your browser.
The beginning of the game may be a little bit slow however you will be exposed to a lot of action within minutes as you grow. There is no any company behind the game which develops it. Slither.io is developed by single developer, Steven Howse who is also the creater of the Agar.io. He keeps both of these games running to serve more than 90 millions of people on a daily basis.
How to Play slither.io?
The main purpose of the slither.io is to wander across the map to eat the orbs to grow. In the event that you will be playing the game through a browser than you will use your mouse to change your direction with your snake. It is not possible to pause the game since you will be playing online with other people however you can activiate the AFK mode in slither.io mod by pressing the F key of your keyboard.
You need to eat the orbs as much as you can by avoiding to hit your head to any other snake. You will lose in case you will hit however you can slither on your body as you wish.
In the event that another snakes will hit you glowing orbs will appear as they will be eliminated. These orbs will allow you to grow faster than the regular ones.
You can hold on your left button of your mouse to speed up. You can take the advantage of your speed to let other snakes hit you. However as you use the speed you will begin to get smaller. It is a good way to travel fast in order to collect the glowing orbs.
Your main purpose is to grow bigger as much as you can by avoiding to hit any other snake. You can check your ranking from the right page of your screen.