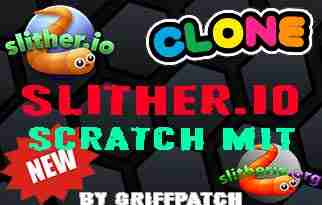 Scratch by griffpatch
Here's my best attempt at a Multiplayer slither.io game. If it lags then try pressing 'L'. You can now choose the colour of your snake!
Control your snake with the mouse.
Collect the food to grow longer.
Don't run into other snakes!
Click or Space to dash (if you have eaten enough)
Press 'L' to toggle lag mode (turns off all the effects)
Press 'N' to toggle player names
All credit to slither.io for the original game… Also credit to@theChAOTiC for the basis of the font engine that I remixed.
Change Log
16 May 2016 – v1.3b – Added lowercase letters to name tags
16 May 2016 – v1.3 – Added a minimap so you know where you are
14 May 2016 – v1.2b – Fixed missing snake on painting skin screen
13 May 2016 – v1.2 – Added some preset skins
13 May 2016 – v1.1 – Added Player Names and 'N' to toggle
11 May 2016 – v1.0 – Front Menu + Custom Snake Skins + Fixes
8 May 2016 – v0.4 – Longer snakes now turn slower.
7 May 2016 – v0.3 – Borders, die on edge, but no drop of food!!!
7 May 2016 – v0.2b – Repaired cloud variables 10-16 – Need everyone to disconnect for it to start working properly! That could take a while!
6 May 2016 – v0.2 – Improved Handling
6 May 2016 – v0.1 – Initial Release