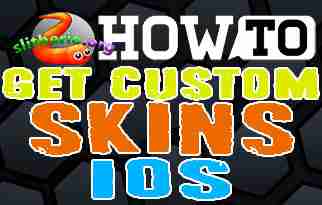 If you're anything like us, you'll have been playing Slither.io to death the past few weeks. In fact, it's so addictive you might even have died. You know, from forgetting to eat and sleep and all that malarky.
But, if you didn't die, you're likely to just want a change of scenery. Something to liven up the stale experience. That's where custom skins come in.
Now, we're not going to lie. There's no surefire way to get custom skins on the mobile version of Slither.io that maintains the quality of the vanilla experience. You're going to experience a tad more lag and advertisements, and, in some cases, even poorer visuals.
But, if you can put up with all that in exchange for some tasty new skins, read on to find out how.
Get new skins in Slither.io itself

This is the easiest and cleanest method, and one which won't impact on your experience at all – well, except to make it more visually interesting.
Simply open up Slither.io and tap on 'Change Skin' in the bottom left-hand corner and you'll be greeted with tons of new skins. These include different colour snakes, snakes with flag designs, and even a few pop culture references.
Choose one, hit okay, and get playing.
Separate apps

Another way to do it – which includes all of the negative aspects we covered in the opening few paragraphs – is to use a totally separate app. Don't be enormously fooled by these, though, as they don't actually change very much.
For the most part, they just randomly cycle through skins you can select from in the main game anyway. But, you can use them to turn off the 3D effect on the snakes. Check out the screenshot below to see how this looks in action.
Not overly impressive, no. But it might be enough if you were sick of the sight of those 3D snakes – or if you just wanted a slight change of scenery.
The downside to this method is that, from our experience, these apps suffered from lag, an abundance of ads, lower resolution visuals, or a zoomed out view which had a negative impact on the experience. You've been warned!
Source: http://www.pocketgamer.co.uk/r/iPhone/Slitherio/feature.asp?c=70206