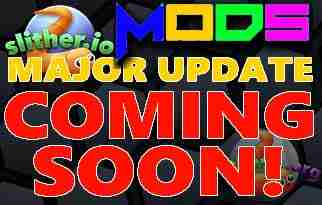 Hello all! As you may know, we have recently published our own Slither.io mods extension . It contains many features and this post is to notify you that even more are coming! That's right, a major revamping new update is coming up! It has new features such as a party mode, viewing your friends on a map and a brand new UI, with a slick menu to help you get a clean overview of all those nifty things you can now easily do! Features that will be in the update:
Seeing your friend's dot on the map
Seeing your party members dot on the map
Bigger map
Party mode!
Brand new UI, some improvements to the in-game UI
Setting a clan logo
Setting a clan name
Setting a clan tag
New Skins!
A Bot (BETA)
Multi language (De, En, Es, Fr, Nl, Pl, Ru and Tr for now, if you want more added, don't hesitate to contribute and we'll add your name to the credits list!)
Easier access to support and contact
As requested, zoom reset now also works with Period (.) for keyboards without a Tilde key
Planned features for a later release:
In-game radio
In-game voice chat
More advanced bot
Screenshot button
Key remapping
More settings
As you can see, a LOT of improvements to the game are coming! Stay tuned, and be ready to have a whole lot of more fun! As mentioned above, we'll post here too when the new update releases.
Peace out!
Translating..
If you want to add your language on v3 and your name in credits. You can use default en.txt and translate with your language.
Default EN: https://slitherio.org/lang/en.txt
Translate complated.
Turkish: https://slitherio.org/lang/tr.txt
Dutch: https://slitherio.org/lang/nl.txt
Finnish: https://slitherio.org/lang/fi-by-Kilkiju.txt
Hebrew: https://slitherio.org/lang/he-by-Shachar.txt
German: https://slitherio.org/lang/de-by-Chaosflo44.txt
BR-PT: https://slitherio.org/lang/pt-br-by-Tuper-Mario.txt
BR-PT: https://slitherio.org/lang/pt-br-by-Wesley-B.txt
French: https://slitherio.org/lang/fr-by-Amre-MAARIR.txt
Czech: https://slitherio.org/lang/cs-by-Cvolton.txt
Translate with Google Translate (need to be fix)
Spanish: https://slitherio.org/lang/es.txt
Polish: https://slitherio.org/lang/pl.txt
Russian: https://slitherio.org/lang/ru.txt
If you want to help us about translating please send us completing file via email: [email protected]