All Details about Slither.io
Slither.io game is commonly played in all around the world. It is in a level which can be a rival o Agar.io. It is a different multiplayer version of the snake game on  the Nokia 3310. This game is really annoying, though a really great game too. The goal in slither.io is to grow bigger as much as you can. Since it is a game based on strategy it may make you nervous. You can cage other players with your death circle and let them hit you to be eliminated. You have to let other players hit you, collect their remainings and rank in the top 10 list of slither.io. You can speed up by holding the left button of your mouse. In this way you can beat your opponent with an unexpected move. Of course some of the most necessary things in this game are attention and coordination. You may be attacked at any time from anywhere. This game is not associated with growth mechanics of Agar.io, all you have to do is grow bigger. Slither.io skins are quite remarkable when compared with Agar.io and we believe that it will draw your attention too.
Slither.io Skin Change
You can do it by connecting to sites like Youtube, Facebook and Twitter. You can prefer any of the skins located on the left bottom. In this way you will feel different from other players and be the leader with spectacular look. You can also access to all slither.io skins for free by downloading our slither.io mod through our website.
How to Play Slither.io?
You may really like slither.io game and even you may be addicted to it or it may make you neurotic. You have to let your opponents to hit you and collect their points of course you should not die during it. You can team up with your friends and cage other players too. You will need speed, intelligence and coordination while playing slither.io. In the event that you will play very careful, then your chance to rank number one will increase. But of course bigger snakes are not superior than the smaller ones in this game. Do not forget that you will be eliminated when you hit to somewhere. You may have to start from the beginning due to this. Slither.io is as frustrating as flappy bird but as fun as agar.io.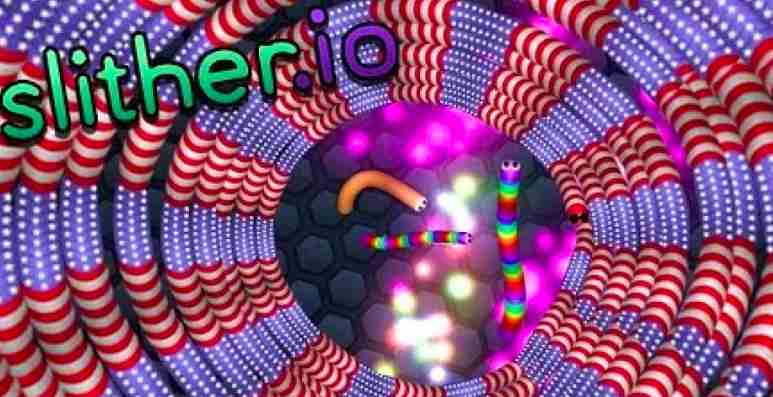 Slither.io and Agar.io Comparison
Slither.io looks like the copy of agar.io however it is quite different then it. First of all you are a snake and you cannot feed your snake by pressing W, all you have to do is not hit to your opponents. You can create teams in agar.io however you play solo in slither.io. You are powerful in agar.io in line with your sizes however being bigger has no privilege in here. Your mind is your biggest assistant in slither.io while you team is our biggest assistant agar.io.
Slither.io Tactics
Speed is not the only solution in slither.io but you have to be careful as well. Since your opponents will be slow and cumbersome when they grow, you will be advantageous so that you can move in front of them suddenly to let them hit you. Of course you have to speed up at the right time and do not forget that you lose some of your parts when you speed up. In the event that you opponent is interested in something else then you can cage him with your death circle and start turning around him. Either you or your opponent is going to be eliminated. You should avoid hitting to your opponent in the circle. You can simply start playing with slither.io mod through our website which offers some features that can help you while you are playing slither.io.