Those who are willing to learn more about slither.io tips and tricks must read this article! Let's start by learning more about the Slither.io game; in fact we already know much about the game since it is very similar with Agar.io but funnier and better. It is a kind of game which will be addictive and loved by many. You can find the original Slither.io or Slither.io mod on our website which all ages can play. You can also find the answers of questions regarding the Slither.io game in here. Your aim is to constantly grow and attempt to break the world record as the longest snake.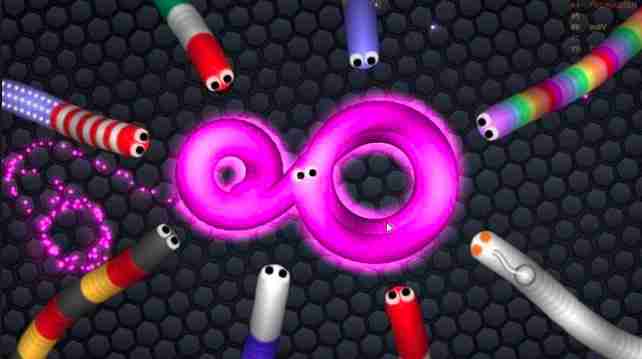 Let's start to our Slither.io tips and tricks;
Tip 1: Start playing the game by writing any nickname you want, other players will see and follow you with that name because slither.io game is multiplayer game.
Tip 2: You will start to the game as a small snake. You will begin to grow by eating the orbs that you will find on the map. Do not hit to other snakes that will be around of you, if you do, you will be eliminated.  
Tip 3: Change direction by using your mouse. You will go faster when you click and hold down your finger on the left button of your mouse. However do not forget that your snake will be shortened as you go fast. This is why pay attention to speed up only when it is needed.
Tip 4: When you start to the game eat the orbs left by other snakes and try to avoid from the bigger snakes. When you will be long enough, eliminate the other snakes by getting them into your circle and eat the glowing orbs left by them.
Tip 5: If your screen is full with snakes when you just start the game, try to grow in the calm regions of map. If you cannot escape from the crowd then try to move upright. If you move upright on time in the plunder, those who will attack will be eliminated and keep an eye on them to eat them.
Tip 6: Circle the smaller snakes to eliminate them however do not waste time with very small ones. Those snakes which go in parallel with you will change direction so you can eliminate them with a good timing.
Tip 7: If you will see a snake which is drawing a circle around another snake and if the area it covers is small and you can draw a circle around it then do not miss this chance. Draw a circle around it and eat him.
Tip 8: Do not move fast in the crowded regions. Try to not move fast and eat the remainings of the other eliminated snakes.
Tip 9: The middle of the map is very dangerous in general. Do not wander around the middle when you will be over than 10,000 points. Wander in spacious regions of the map.
Although Slither.io game is a popular game, it is still very young. The game is being developed every single day and we are providing the recent news about the Slither.io game in our blog. You can download our slither.io mod to use more features such as slither.io skin or slither.io zoom.