Slither.io Mod 0.5.3 Developed by Slither King
Here we are with another slither.io mod developed by Slither King again. This guy is a totally mod developer machine and he takes the opinions of the slither.io mod users into consideration. This slither.io mod review will contain less information when compared with the other slither.io mods of the same developer since it kept everything in minimum in this mod. So let's stop wasting more time and check his slither.io mod together.
First of all let's start with the slither.io skins which are also available in this slither.io mod. All of the slither.io skins already unlocked at this mod and you can select any of them in line with your taste. When you install the slither.io mod you will not see any notifications on the main page. The mod includes a slither.io bot which you can turn it on and off by pressing the T button while you are playing slither.io. The same bot can follow and capture the moving orbs on the map with the help of the prey hunting feature. All you will have to do is click on the P button on your keyboard in order to activate it.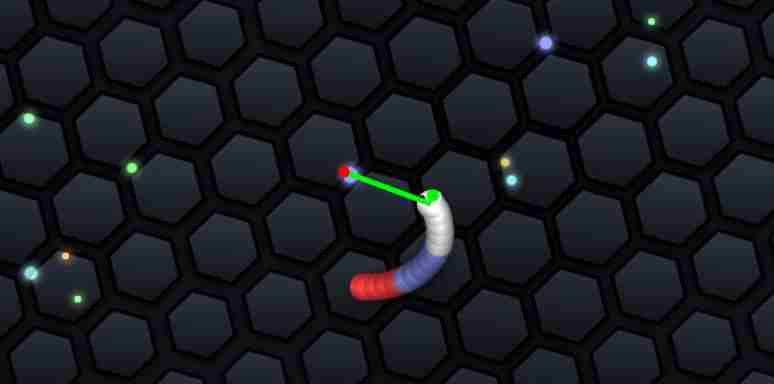 If you like to watch your slither.io bot playing on behalf of you then it will be fun to turn on the visiual debugging by pressing the Y button. In this way you will see your bot aiming the glowing orb. You can see which one you are going through in this way. Again U button turns on the log debugging.
You can click on the I letter in order to respawn automatically whenever you are eliminated. In this way you will save your time and efforts. In the event that you are experiencing any slither.io lags then it will be better for you to turn on the mobile rendering by clicking the O button. The slither.io skin will be disappeared and you will play as a white snake however you can get it back whenever you turn on the mobile rendering.
You can use the slither.io zoom hack in this slither.io mod with the help of the mouse wheel of your mouse but there is no option to reset this setting as it is available in his other mods. Still you can arrange it and use it well.
You can see all of the settings from the left top of the screen in this slither.io mod too. We cannot say that this is the best slither.io mod of the Slither King, it can be considered okay but there are much better slither.io mods developed by him and you can find all of these on our slither.io mods category. Let us what do you think about this slither.io mod if you have played this mod before or any of his other slither.io mods.
Features:
T Bot enabled/disabled
U Log debugging
Y Visual debugging
I Automatic Respawning
O Mobile rendering
P Hunt prey – Moving food
Mouse wheel Zoom in/out
x-y coordinates
How to install user scripts?