Slither.io Bot v1.2 Developed by Slither.io Gameplay
Slither.io is breaking a new record in each day and when this game is this much popular it is possible to find many slither.io mods developed by various developers. In this article we will mention about a slither.io bot which is developed by an author names slither.io gameplay. In fact this mod is one of the most comprehensive bots after the one that slither king developed.
Let's start with the features of this slither.io bot. First of all you will be pleased to hear that there is a bot in this slither.io mod as you can understand from its name. You will see the settings menu on the left side of the screen while you are playing but we will give some information about what these features do in this article. T button activates the slither.io bot and you can turn it off by pressing the same button again. Y button turns on and off the visual debugging while the same applies for the V button for the log debugging. In the event that you will press on the I button then you will turn on the auto respawn feature which the game will begin directly whenever you will die.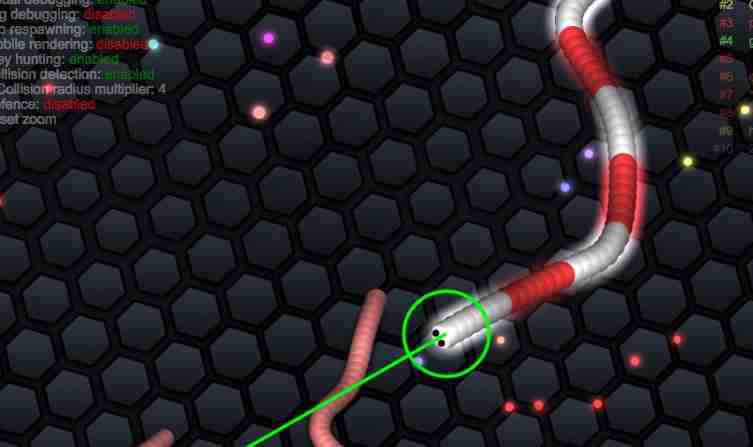 In the event that you have some lagging problems then you can find a solution by pressing the O button that will turn on the mobile rending and end your slither.io lag problem. There is a prey hunting feature in this slither.io mod which will cause your snake to chase the moving foods on the map that provide more points and bonus length to you. When you will press on the C button you will turn on the collision detection that will alert with a big red dot while you are about to hit any of your opponents. When you will turn on the visual debugging feature in this slither.io mod a circle will appear on your head and you will be able to change the size of this circle by pressing the A and S buttons.
If you need to be AFK in slither.io game then you can use the D button in order to turn on the defence mod where your snake will start to turn around in its place. In addition to these you can reset the changes you did with slither.io zoom hack by pressing the Z button. We believe that you will like this slither.io mod however keep in mind that the bot in this slither.io mod still needs to be improved a lot.
It will be a mistake to rely on this slither.io bot and leave your game while you have high scores since you it will be highly possible for you to be eliminated by other players. The bot works well however still there are many players who can easily trick the bot and eliminate you.
Features:
T Bot enabled/disabled
U Log debugging
Y Visual debugging
I Automatic Respawning
O Mobile rendering – Try this if you experience lag
P Hunt prey – Moving food
D Defense mode – bot turns around in a circle
C Enemy avoidance / Collision prevention
Z Reset zoom
Mouse wheel Zoom in/out
How to install user scripts?